There's nothing like the annoying sound of your golf clubs chattering in your golf bag as you walk on the course to put you off your game.
I know how you feel. So here is the way I found to silence that annoying golf club chatter once and for all.
Use a 14-way golf bag to protect and organize your golf clubs. Purchase headcovers for all your clubs and place the covers over all the clubheads before you play your next round of golf. Or you can weave a large bath towel over your clubs to prevent the chatter.
Keep reading to know all the methods to protect your club and stop that annoying sound.
A great start is purchasing a 14-way golf divider bag click here to see the best ones available on Amazon.
You're good at golf, but how much better would you be with 24/7 access to excellent golf practice, even during the winter? Rain or shine. 365 days/year. Building a golfing simulator leaves no excuse to get better while having tons of golfing fun. See for yourself by clicking here or clicking the button below.
How To Stop Golf Club Chatter
Purchase a 14 way divided golf bag and organize your clubs in an order that makes sense to you, typically Driver at the top and LW at the bottom.
Buy headcovers for your woods at the very least since they are the most expensive. Most big name drivers, woods and hybrids will come with a headcover. Some people do buy iron covers but be prepared to be made fun of by others if you have them.
Buy an iron holder to your irons secure and organized.
Or weave a large bath towel through your clubs to prevent golf club chatter.
You can see many golfers discussing their tips in this Titleist forum. You can see the user 'Ryan M's picture of setting up the towel down below.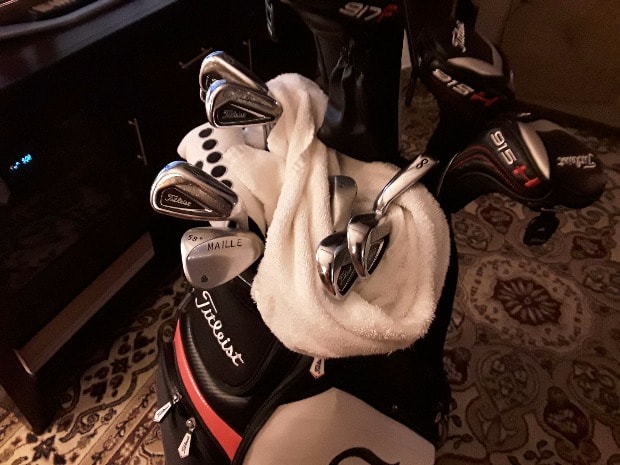 An iron holder is a great way to protect your clubs and stop chattering. It is a plastic device that is inserted into the top of your golf bag. Take a look at the best ones available on Amazon for a great price by clicking here.
14-slot golf bags are undoubtedly the best and easiest club bags you can use to organize your clubs and stop the golf club chatter. Typically 14-slot golf bags come as cart bags, with the bags themselves being used more so by professionals and scratch golfers because of their higher price; this shouldn't stop you from using the 14-slot bag if you want to keep your clubs organized.
Buying a 14-way golf bag is an excellent idea as the full-length dividers help prevent clubs from knocking each other and prevent clubs from tangling when your bag is angled on a pushcart. A very disorganized person both in golf and in life, buying a 14-way bag and an iron holder is an excellent way to keep my clubs safe & organized.
For more information on how to organize a golf bag not only to stop your clubs from chattering but to make it easier than ever to find your clubs, you should read my detailed guide.
I know clubhead covers are annoying. They always slip off during a round and take valuable space in your golf bag, and it's annoying taking them off after every shot, but they are crucial to guide against damage.
Having clubhead covers prevents clanking and protects the clubs while sitting in the trunk of your car while driving and in the golf cart. See some of the best-looking clubhead coverings available on Amazon for a great price via clicking here.