Wouldn't it be nice to get a great game of golf in, anytime you want no matter the weather, and play in 100s of the best courses in the world? Building one was the BEST condition I did for my golf game.
With a golf simulator, all this and more is possible, but I'm sure you have many questions and I'll be glad to answer them with my many hours of practical experience building and hours of research in the hope of saving your time and money when building a golf simulator.
Why You Should Build A Golf Simulator
You can play in any weather no matter if it's raining, snowing, or freezing outside, never miss a game of golf again
Can play in 150,000 different courses with many courses ranked top 100 in the world!
Fits golf in a busy schedule even if you have a family and 40-60 hours a week you can fit 9-18 holes in 20-30 minutes
You can lay golf at any time, want to play before the sun is out? Want to get a few holes in at midnight? Don't let time be a hindrance to your golf game.
Gives you a lot more practice time resulting in real tangible results to your golf game
Certain golf simulator software like the SkyTrak allows you to take the launch monitor with you to the driving range. To collect data to use for real-life improvement.
Why A Golf Simulator Is Worth it
You Can Play Golf Regardless Of Weather/Time
If you live anywhere with bad weather you understand the problem horrible weather can cause. Rain-checked games with your buddies or rescheduled lessons all are a big pain.
In winter no one likes playing in freezing cold conditions with ice-cold clubs, usually, the best option is driving to the driving range, indoor driving ranges, or commercial golf simulators that can cost $50/hr per bay at peak times!
None of these is the best option and I would choose between all three without feeling satisfied.
Gives You Time To Improve Your Game
If you played a lot of golf during college or high school and are finding the transition into working a 9-5 whilst having a family and finding the time for golf difficult, a simulator is PERFECT for you.
Being a working parent can be difficult. You come home tired and hungry late from work and whilst you WANT to play golf your kid needs help with their science homework. All of a sudden 1 hour has passed with the sun setting closing your golf window.
Getting that spare window of time to drive to a driving range or a golf course whilst the sun is out after working a 9-5 just isn't possible the time windows are so small, with a simulator you don't have to worry about time anymore.
Now no matter what you have no excuses to bang a quick 9-18 holes in thirty minutes, whilst before you had numerous barriers like driving to the driving range or not being able to play at night. With a golf simulator, you have access to high-quality golf 24/7 365 days of the year.
Winter or the weather won't even matter to you, allowing you to focus on improving your technique and shooting lower scores with real tangible benefits when you go out to the course.
Before discussing what is the best golf simulator let's talk about how much space and budget you need.
What You Need For A Golf Simulator
How Much Space Do You Need For A Golf Simulator?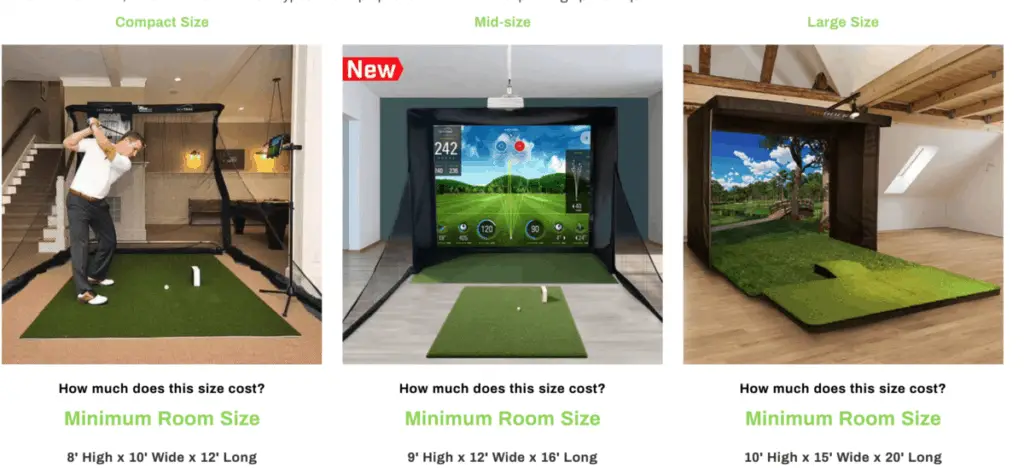 The minimum space required for most golf simulators is 10'W x 10'L x 8.5'H(304.8'W cm x 305'L x 259′ H cm) but a height of 9 feet is acceptable but not lower. Players' height and arm length factor into how much space is required, if you are shorter you can get away with a slightly shorter ceiling.
Different golf simulators have different minimum sizes, you can see a quick look at the different minimum room requirements for a small, mid, and large size golfing simulator in the above screenshot from rainorshinegolf.
Remember you need to have enough space to make a full swing with your longest club-the driver, this will vary greatly. If your 6 foot 5 you need a much larger room than someone who is 5 foot 4!
If you don't mind being slightly claustrophobic then you could be okay with a setup that is only 8′ wide(243 cm) but 9′-10′ (274cm-305cm) is ideal. I wouldn't recommend being feeling super quashed as you should spend a lot of time using your golf simulator so why not feel comfortable using it?
Also, you need space for your hitting net then an extra 1′-2′ (30-61 cm) between the net and the wall as when the ball hits the net it will give way. If you leave no space between the net and the wall you will be greeted with a nice little hole!
Start clearing the space out and think about how you will place the various items like the projector and the net.
How Much Does A Golf Simulator Cost?
Golf simulators cost between $799-$70,000.
Low-cost Golf simulators: $799-$3,499
Mid cost Golf simulators: $4,699 – $7,799
High cost Golf simulators $18,995 to $70,000
Low Cost Affordable Golf Simulators: $799 – $3,499

If you want the most affordable golf simulator you can use a net and TV instead of a projector and a screen. Do not purchase cheap projectors or impact screens and this will sharply reduce the accuracy of the simulator.
For a mid-price option involving a projector and screen for a more realistic and enjoyable experience please look at the next price tier.
Mid Cost Golf Simulators: $4,699 – $7,799

These packages will include a projector and a screen, these packages all include SkyTrak rated the better value golf simulator by Gold Digest for three years running.
SkyTrak dominates this price tier for good reason it is a portable launch monitor that can be connected wirelessly to any tablet or personal tablet and is compatible with The Golf Club Game, which offers 150,000 courses including Chambers Bay and Erin Bay, with courses created by users and live tournaments you can play with friends or with someone online!
High Cost Premium Golf Simulators: $18,995 to $70,000

At this level you're getting the best golf simulators money can buy.
TrueGolf offers high-speed optical sensors with precision analysis software giving instant feedback to improving your golf swing with crystal clear images in HD resolution.
The two-time Golf Digest Editors' Choice Award winner GCQuad SwingBay combines superb technology with an excellent SwngBay simulator screen and enclosure that brings an indoor golf experience that is unrivaled.
GolfZon is the winner of Golf Digest's Best Luxury Golf Simulator and captures your swing, impact, and spin not only displaying your ball flight but recording crucial data points that are stored on the cloud on various electronic devices.
Most simulators have a stationary one-surface mat but the Vision premium offers a moving platform that provides uphill, sidehill, downhill lies along with three hitting surfaces (fairway, rough, sand) giving a more realistic golf experience.
What Golf Simulator Should You Buy?
The choice will greatly depend on what is your budget for the necessary items for a golf simulation, such as the launch monitor, simulator software, golf mat, projector golf mat, and other accessories like the computer or tablet you will be using.
Do not worry as I got you covered, I will explain what you get for your money so you can determine what price range is right for you.
Launch Monitor Cost – $299 to $30,000+
The launch monitor is the brains behind your simulator and is the biggest difference in cost between the low-high and high-end golf simulators.
Low-cost launch monitors will only measure the most basic metrics to calculate your golf shot. Whilst end monitors like the GC2 Certified are what high-end golf institutions and like Golf Tec and pros use.
These monitor everything from ball speed, launch angle ball impact point as much more. They are very accurate and give reliable data, they are typically built with infrared radar with cameras mounted to the ceiling for maximum accuracy which is why your ceiling needs to be at least 10 feet for your simulator.
My Top Launch Monitors Recommendations
(Best Value)SkyTrak.-starts at $1995 winner of the (Best Value Golf Simulator of 2017, 2018, and 2019) and is rainorshinegolf best Seller
(Premium Options)CG2 Certified Pre-Owned. Starts at $5400 and performs better than the SkyTrak outdoors with a decreased shot calculation lag time meaning it calculates your shot faster than the SkyTrak
(Best Budget )OptiShot 2– starts at $299 this isn't a launch monitor but is a swing pad and it is not recommended if you can afford the SkyTrak but it does work for those on a budget
Golf Simulator Software Costs $0-$3000
Golf software can be included with the launch monitor and other times you have to pay more. Not all golf simulator software will work with all golf simulators or launch monitors.
Pick your golf simulator or launch monitor first before picking your software to ensure they are compatible with each other.
My Top Launch Golf Simulator Recommendations
The Golf Club 2019 is $479 per year or $895 outright(PC only)
World Golf Tour is $199 per year(iOS/ iPad only)
e6 by TrueGolf is $299 per year or $1800 outright (PC only)
For foresight sports, FSX software which is $3000 (PC only)
For OpticShot 2 it comes pre-loaded with 15 courses at no cost
Golf Mat – $300 to $1,500
The cheapest solution would be finding a simple square mat similar to what you find at driving ranges for less than $300, but I recommend to avoid these cheap mats as they can lead to serious injury on your knees, back and wrist over time.
I recommend using premium mats that simulate hitting on real grass to keep you healthy but first understand what size mat you need; 4″9″ (122-273 cm) will be double the price of 4″x5″ (122-152cm).
My Top Golf Mat Recommendations
Golf Net or Screen Enclosure – $400 to $5,000
Using a projector and screen is a way to make your golf simulator feel premium. Hitting your shot and seeing the ball fly through the virtual air makes it feel a LOT more like golf.
Going with the more budget option without a projector your balls will hit into the net whilst you see the ball on your computer, TV, or iPad making the whole experience a lot less immersive.
If you want the budget option with a golf net and TV it will cost you around $400-$700 and my recommend net is The Net Return Pro Series V2 Golf Net. It is the best golf not on the market and it has automatic ball return for the lazy person in all of us.
I recommend going for the screen and enclosure route as seeing your ball fly through the virtual air projected on a screen instead of a TV is an amazing experience, not quite like the real thing but it's close. This will cost $990-$3499 with a number of options depending on your space.
For a budget-friendly screen option combine the Net Return Pro Series Screen with the Pro Series V2 Golf Net which will cost you $990. If you want the best experience I recommend the SwingBay Golf Simulator Enclosure that was developed by Rain Or Shine Golf with a price of $3499.
The enclosure has a large ballistic grad hitting screen that is designed to match the 4:3 aspect ratio needed to make HD projection look extra crisp.
Golf Simulator Projector $119-$229
You need to be careful with your projector as if you get the wrong one it won't work well. You need 16:9 or 4:3 aspect ratio comparability with at least 3000-lumen brightness and 1080p HD.
Whilst you can pay more there isn't a need to, the portable Yabber Y60(pictured above) on Amazon is equipped with full 1089 HD 6000-lumen brightness which is more than enough for your golf simulator needs.